8/10/07
8/10/2007 |
Posted by Dave and Thomas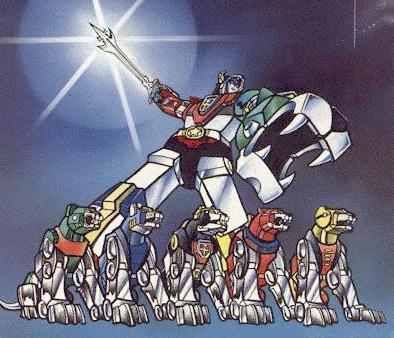 Theories on what the Cloverfield Monster will be have ranged from really clever to very odd. The 2 worst rumors that surfaced after the 1-18-08 Movie trailer hit the 'net were Voltron and something related to a guy named Ethan Haas.
It turns out that Haas was just a video game that the manufacturers were using the Cloverfield momentum to fuel their site.
The Voltron rumor surface immediately after people viewed the trailer in the theater mainly due to the misheard line near the end of the video where someone running down the street yells, "It's Alive. It's huge!"
Some people heard, "It's a Lion! It's huge!" and that began the Voltron rumor as many were thinking that the huge mechanical Lions the Voltron groups rides in is terrorizing New York City.
There are a lot of facts to disprove the Voltron theory but for some reason it keeps popping up. Someone wrote that IGN is riding that theory this week but that doesn't sound right. They're a good site that usually research theories before going online with them.
And it doesn't take much to kill this theory. One try and I can do it.
The Voltron theory people are overlooking one huge basic ingredient to making the Voltron movie : Paramount doesn't have the rights to the Voltron movies!
Paramount/Viacom has the rights to 1-18-08. JJ Abrams has contracts with Paramount and Warner Bros. to make movies/TV shows. Voltron's rights are owned by Fox (
here
) and they are should start filming later this year or early next year.
So, there you go. No time to dwell in all the other theories, like JJ saying it is a monster movie and confirming it was not a remake in any way, shape, or form. The Cloverfield/Voltron theory was dead before it hit the ground and to be safe we'll put it on the shelf right up there next to Ethan Haas for good measure.
Labels:
1-18-08
,
cloverfield
,
ethan haas
,
Ethan Hass
,
leviathan
,
Monstrous
,
Parasite
,
Slusho
,
Voltron